This is a quick and easy home schooling idea! An activity to work on colour matching and building finger strength for all of your little ones future writing!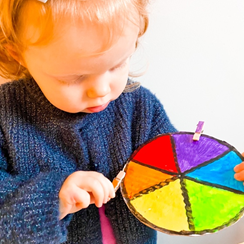 Materials:
Little Brian Paint Sticks
Cardboard
Wooden clothes pegs
Scissors
Pencil
Ruler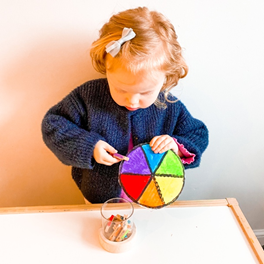 How to:
Trace a circle on the cardboard. Use a ruler to draw a line across the middle and then divide it into 3 wedges on the top and bottom, creating the colour wheel spaces.
Colour them in using your Paint Sticks. Going clockwise the colours are red, purple, blue, green, yellow and orange. Then take a black Paint Stick to go over the pencil lines and make the sections stand out.
Cut the circle out.
Paint both sides of the wooden clothes pegs in the matching colours. Both sides are important because children will probably twist them around while trying to peg them onto the wheel.