I am so excited to shout about this amazing, brand new Paint-A-Puzzle by Little Brian. I love hands-on activities that bring out the girls creative sides. This giant Paint-a-Puzzle will provide endless entertainment. The big puzzle pieces are great for little hands and the girls really enjoyed working together to build the farm fun themed puzzle.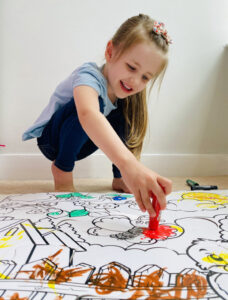 The Paint A Puzzle includes 12 giant puzzle pieces and 6 Little Brian Paint Sticks. The puzzle is sturdy and it makes a great activity for all the family to get involved in. You can get creative both indoors and outdoors and the best part is, the paints wipe off with a wet wipe, so your little ones can keep creating time and time again. Both of the girls couldn't wait to get stuck in and they wasted no time embracing their mini Picasso.
Little Brian Paint Sticks are brilliant, they really do take the stress out of arts and crafts. They glide easily over the Puzzle and the bright colours really do bring the puzzle to life. This activity is great for helping to develop those all important fine motoring skills, it also makes a great quiet time activity to, just look at how relaxed Flo is, she did quite a lot of her painting lying down.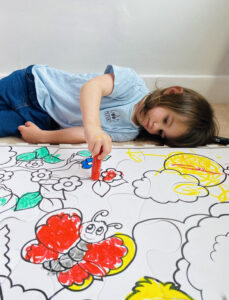 The Paint A Puzzle costs £14.99 and it's available to buy from https://www.argos.co.uk/product/8962834 It really does make the perfect boredom buster and the girls had so much fun. I love the fact that it encourages little ones to problem solve when building the puzzle and it also brings out their creative sides. I of course joined in and I found it very therapeutic, it's the perfect size too, because there is plenty of space for the whole family to get involved. I highly recommend that you check it out!