Here's one of our favourite simple craft ideas – painting on tinfoil, which is lots of fun, great for sensory play, and creates textured collaborative art.
Lay out your roll of foil on the table, fastening it in place with a little sticky tape at the corners to make it more secure on your desired surface. Then it's all-join-in time!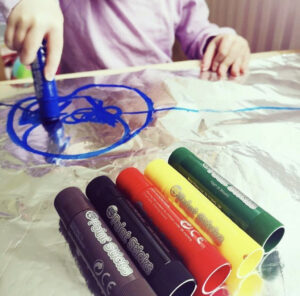 Tinfoil is a fun alternative to painting on traditional paper, and an interesting surface to paint on too! Tinfoil is a very smooth surface, so the Paint Sticks easily glides across the foil, and sits on the surface rather than being absorbed as with paper. The shiny surface adds an extra sensory element, and it makes a crunchy noise as you paint on it too!
Laid out on the table, the foil can be a canvas for a big collaborative piece, which all the family can join in with the fun and paint their own section! Or overlapping across the foil, layering the paint and different colours as you go.
Take our own little tip and make it your own! Make sure you tag us in your creations on social media Instagram, Facebook, Twitter!