Paint sticks are perfect for little hands. Perfect for mark making and developing early writing skills.
The range is extremely popular at Little Learner classes up and down the country. They are easy to use and come in bright, vibrant colours. An added bonus is they are less messy and there is no dripping of paint.
My children and I set upon a mission of trying out alternative, fun and creative ways to use paint sticks to mark make.
Mark making is when a child starts to scribble, make patterns and different shapes. This is their first steps in their journey to start writing.
The magical colours of Autumn Leaves
On a family walk through the woods we started to look at the leaves; their shapes and autumnal colours. The children were eager to take a few home and that's when I thought these provide a great canvass for mark making. We made sure they were dry and then had a go. We made straight lines, arches, circles and zig zags. My daughter has just started in Reception class at school and we used this activity to practise her letter and number formation. Other ideas you could try on leaves would be colour matching, can you match the paint stick colour to the colours on the autumn leaf? Name writing, you could write each letter of the child's name, then muddle and the child can match.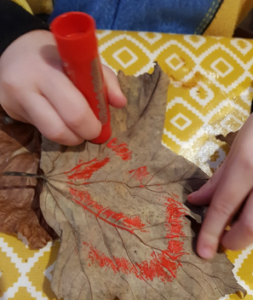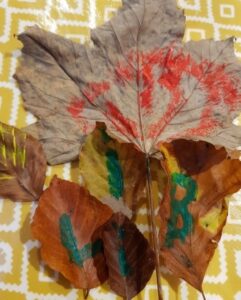 Using everyday objects: Kitchen Foil
We looked for different surfaces and materials to mark make on and tried out kitchen foil. The children loved the shiny, bright appearance of the foil. We decided to make a Christmas scene and my daughter drew a Christmas tree, with a trunk and zig zag star at the top. A Christmas tree is great to practice those zig zag marks of Ziggy; our monster mark at Little Learners.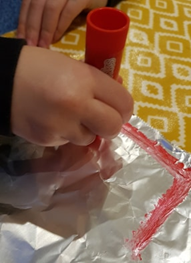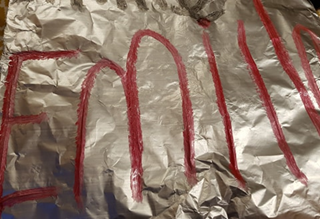 A large blank canvas- Windows!
A favourite one with my children and paint sticks are great for this. As the evenings are getting darker and by late afternoon the outside has turned black, we decided to try out the paint sticks on windows then. Windows provide the children with a large area and one where they can use their gross motor skills too as they can stretch up high, down low and to the sides. They are stretching those core muscles. My daughter practiced drawing shapes and turned her shapes into a rocket with fire. The added bonus of using paint sticks on windows is that they also wash off very easily with water!
We had a lot of fun using Lirtle Brian Paint Sticks as they are easy to use and easy to grasp for little hands!

Written By
Lene Perkin,
Little Learners Basingstoke