Here is a super simple idea to keep your little ones busy using an old box!
Materials required:
Box
Little Brian Paint Sticks
Scissors (and a craft knife if you have one)
Pencil/pen
Optional: white paper and a glue stick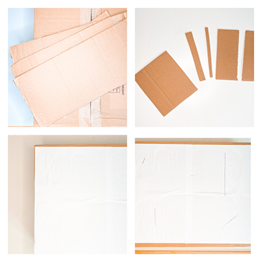 Cut the top flaps off the box making sure to leave the bottom and four sides intact.
Cut up the flaps into squares or rectangles. To keep the challenge easy cut all of the shapes the same. To add a level of difficulty make them different sizes!
If you want more of a clean finished look use the glue stick to glue white paper to the bottom of the box.
Using the pencil draw lines on the bottom of the box as cutting guides, only slightly longer than the shapes you just cut out. If you want to keep the challenge easy you can make the lines/holes 1cm bigger than the shapes, to make them more difficult make them only 1-2mm longer than the cut out shapes (so the children have to carefully line them up vs easily popping them through).
Take your craft knife, knife or one side of your scissors and slice the holes in the box.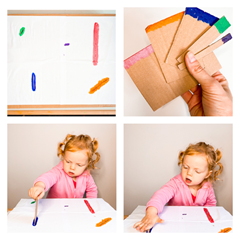 6. Time to make the colour matching fun! Using the Paint Sticks simple draw a line over the top of the holes and then colour the matching cardboard shape in the same colour!
7. Done! Let you toddler have fun pushing the cardboard shapes through, and then lifting the box to find them and start all over again!