When it comes to toys or arts and crafts, storage hacks are always key. Little Brian has absolutely nailed it with the launch of their brand new Little Brian Giant Paint Stick Storage Tube. It's bright, cheerful and will look great in any children's bedroom or playroom, it's the perfect size and will easily fit on a shelf, toy box or in a wardrobe. There's nothing worse than a messy arts and craft drawer, so this Little Brian Paint Stick Storage Tube is a parent must-have.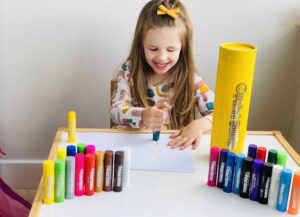 I am really impressed at how many assorted colours are included, the Little Brian Giant Paint Stick Storage Tube comes with 30 Paint Sticks including; 12 Classic colours, 12 Metallic colours and 6 Day Glow colours. Bella was so excited when she saw the giant storage tube, but I think she was a tad disappointed to learn that it wasn't in fact one giant paint stick. I am a big fan of Little Brian Paint Sticks, I love how easy they are to use, they are the perfect size for little hands and also great for developing fine motoring skills, the paint sticks work a similar way to a glue stick and you twist the bottom to push the paint stick up or down.
Bella wasted no time and got stuck right into creating her masterpiece. She decided to paint a picture for Nana and she drew a flower and the sun. I love how mess free these Paint Sticks are, Before I discovered Little Brian Paint Sticks, I used to dread it when Bella asked to do painting, it was always more trouble than it's worth, especially when she used to covered herself and the room with splats of watery paint. Little Brian's Paint Sticks take the stress out of arts and crafts and now I don't think twice about letting the girls paint.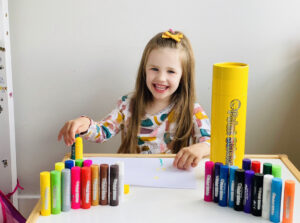 If you haven't tried Little Brian Paint Sticks before you are totally missing out! Seriously they are a complete game changer, I love the fact that I can let the girls paint freely and get creative without the worry that they are going to destroy the house. This Little Brian Giant Paint Stick Storage Tube costs £17.99 and is available to buy from https://www.smythstoys.com/uk/en-gb It contains 30 different colours including Metallic and Glow colours and it will keep you little ones entertained both at home and on the go.